The UK OfS (Office for Students) recently announced new regulations which will see UK universities face sanctions if not enough graduates secure employment within 15 months of completing their studies. If you haven't seen the news yet, let us break it down for you:
Condition B3 of the OfS's regulatory framework means that universities could be fined up to £500,000 if 60% of graduates in a particular subject fail to find 'high quality' work, set up their own business or continue their studies after completing their courses.
What constitutes high quality? Well, different thresholds will be set for different courses "depending on their mode and level of study", for example whether a student is studying part time, an apprenticeship or at a postgraduate level. This has made the regulation particularly controversial, and many see the thresholds as subjective.
Colleges and universities could also be fined for high dropout rates.
In light of the new regulations, universities up and down the country will undoubtedly be reflecting on their current employability strategies and evaluating what else they could be doing to help graduates secure suitable jobs.
So, what do we think? How can universities ensure employment success for its students? And how can we, at PebblePad help ensure universities have the right tools in place for success?
Helping create adaptable graduates
One of the main issues is that the world of work is so unpredictable. Experts at the World Economic Forum perfectly captured the zeitgeist when they claimed that universities have to educate young people for jobs that haven't yet been invented. Automation, AI, and rapid digitalisation are changing the knowledge and skills needed to perform many jobs and fundamentally reshaping others.
Maybe that's why our own Careers Readiness report showed that more than three in ten (34%) of students say they don't know what skills they need for the workplace.
For many, the answer to this unpredictability is to prioritise softer skills – such as critical thinking, collaboration and problem solving – those transferable attributes which ensure students are able to adapt to the quick pace of change. We believe this is critical, and there's plenty of great work going on in this arena already. A great example is The University of Bedfordshire, who has harnessed PebblePad to develop an inter-institution programme helping students work with peers around the world, and develop rich collaboration skills.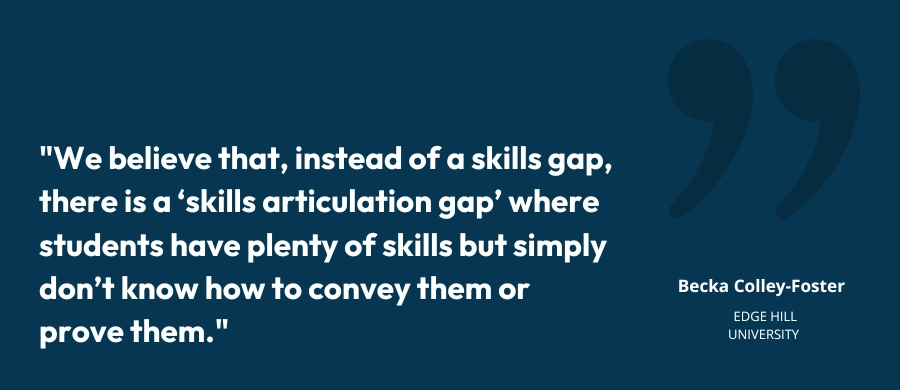 Tackling a skills articulation gap
It's nearly impossible to discuss employment and graduate outcomes without tackling the 'skills gap' which has plagued the business world for nearly a decade. However, we believe that, instead of a skills gap, there is a 'skills articulation gap' where students have plenty of skills but simply don't know how to convey them or prove them.
To help address this urgent need, more focus needs to be put on helping students not just build the skills they need for employment but have opportunities to gather evidence and articulate their skills too. Eportfolio tools like PebblePad can help to provide those opportunities, enabling students to gather a range of evidence against a range of competencies, and rehearse the presentation of those skills to an audience. This means students gain confidence in the skills they have and their presentation of them too – critical stuff.

A rigorous approach to assessment
Building a hard-working assessment engine is of course critical to career success – identifying where a student is excelling, where gaps exist, and ensuring early intervention if a student is struggling with a crucial aspect of their course.
However, to boost students' confidence, we believe that universities must also be committed to identifying and reflecting on students' own perceptions of whether they have the skills and knowledge needed for employment. This not only means allowing students themselves time to reflect on and assess skills built, but to be actively involved in helping students assess how ready for employment they feel.

Learn more and turn intention into action
Becka-Colley Foster, Head of Careers at Edge Hill University is a renowned thought-leader on student outcomes and the importance of being able to evidence and articulate the skills and attributes needed for work. The great news is that she joined the team at PebblePad to host a webinar for anyone responsible for career readiness and graduate outcomes. The informative session took place on 2nd November, for anyone who missed it and are looking for practical tips on how to boost employability and help students secure and evidence their knowledge and attributes, check out the webinars page.