At PebblePad, we're continually inspired by our amazing customers who are harnessing our Learning Journey Platform to deliver transformative benefits to their students. This month, we sat down with Becka Colley-Foster, Head of Careers and Graduate Employability at Edge Hill University (UK), to talk about how PebblePad is helping her team to boost graduate outcomes.
PebblePad: Hi Becka! Thanks for chatting to us. Tell us about your role at Edge Hill.
Becka Colley-Foster: Having been acting head of careers at Edge Hill for 16 months, I was appointed to the permanent position in August last year. My teams have strategic responsibility for graduate employability, looking after all things graduate outcomes and helping students develop the skills and attributes they need to secure their future.
We work with students throughout their learning journey: engagement starts as early as the application phase, where we aim to inspire people not just to choose an institution, but also to consider their path to employment. Career prospects form a large part of why potential students choose a university, and we know that Edge Hill can really deliver on this front.
And what are the biggest challenges you're facing right now?
The primary barrier stopping students engaging with careers services is time – many have to balance their academic responsibilities with part-time jobs, lengthy commutes, caring responsibilities and more. We help students to engage with their future careers in a way which suits them – often fitting around their numerous other obligations.
We also want to help students understand the importance of engaging with careers early, building the skills and attributes needed for work – right from the start of their studies.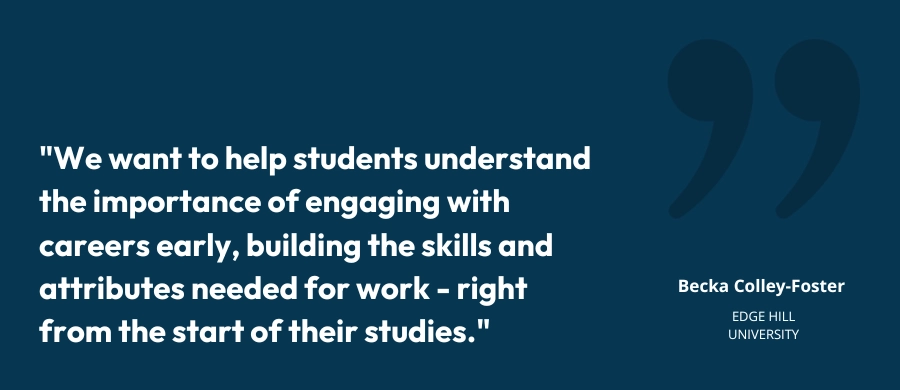 Edge Hill has a brilliant reputation when it comes to graduate employability – what makes you stand out?
At Edge Hill we truly believe that enhancing employability is the responsibility of the entire institution, not just a careers services department. This means that my team works closely with teaching staff to embed employability into the curriculum, and with senior management to ensure employability is a strategic imperative for the institution as a whole.
Our supportive and collaborative culture is a vital part of our success.
You used PebblePad before you joined Edge Hill. Tell us about how you originally found the platform and what you used it for.
My previous employer, the University of Bradford, was one of the first institutions to use PebblePad. We used the platform to power our SaPRA (Skills and Personal Reflective Activity) tool, which aimed to provide a structure to personal development planning for students and staff. One of the primary drivers for Bradford choosing PebblePad was that it puts the learner firmly at the centre of the process, helping drive all-important self-reflection.
And how has your use of the platform evolved? What are you doing now?
At Edge Hill, there are 20 graduate attributes that we believe are crucial to success in the workplace. We used PebblePad to build an interactive Graduate Attribute Workbook, helping students build confidence and evidence their competence in relation to these important attributes.
The workbook is broken down into three sections, starting off with confidence. Students need to rate how confident they are in each attribute before moving onto stage two. In stage two, students can either begin to evidence the skills and attributes they feel confident they've already achieved, or build an action plan to tackle those they don't. The third stage is to put those plans into action.
Of course, no student starts their learning journey confident that they have all these skills, but through using this reflection and assessment tool we can ensure they graduate with all of the attributes they need for work.
Importantly, using PebblePad's feedback and assessment engine, ATLAS, it's easy for staff to track who is engaging with the programme (and who's not) and make appropriate and early interventions.

Sounds great – why is PebblePad so perfect for this project?
PebblePad is incredibly easy to use and understand – it's intuitive and students and staff alike can get to grips with the platform quickly, which is crucial to ensuring adoption.
PebblePad gives students one place to capture their thoughts and ideas. And this place is portable – they can use it after they graduate and to ensure a smooth transition to the workplace. We support alumni for three years after graduation, and unlike many other platforms, PebblePad doesn't stop when students end their studies.
And the benefits for students? That they'll get a job when they gradate?
In short, yes, but there is a lot more to the Graduate Attributes programme than just getting a job. Gaining our 20 graduate attributes, and using the Graduate Attributes Workbook to evidence and articulate them, helps develop and shape the student experience – helping students to be successful in their careers, in studies and research, and in their contribution to society.
Want to see it in action?
Becka featured in our webinar: Boosting Employability: how to help students evidence the skills and attributes needed for work. Becka shared insights on how the Graduate Attributes Workbook supports each department/programme and helps students develop 20 sought-after skills and attributes required by employers. She also shares her Graduate Attributes Workbook for all PebblePad users to see. Click below to request the webinar recording and instructions on how to access the workbook.