At PebblePad, we're always looking for ways to improve our platform and deliver the best possible experience for our users. Over the last few years, we have committed to a monthly product release, full of improvements to delight customers and drive our product forward.
This month we are pleased to announce that after much anticipation, our new Rich Content Editor (RCE) is now live for all customers. This updated feature retains all the familiar functionality and features users expect from a content editor, including text formatting, styling and linking, as well as some highly requested new features.
Read on to discover the key benefits and improvements that come with this upgrade.
Enhanced compatibility
At PebblePad, we are committed to improving accessibility and preparing our platform for future updates and further enhancements. That's why we're delighted to announce that our RCE is now accessible on iOS devices, as well as desktop and Android.
To ensure a seamless experience, we've set minimum browser and operating system (OS) versions:
Google Chrome 107 (and above)
Mozilla Firefox 107 (and above)
Microsoft Edge 107 (and above)
Opera 95 (and above)
Safari 14 (and above)
iOS/iPadOS 14 (and above)
Android 10 (and above)
A new look and location
One of the most noticeable changes in this update is the location of our new inline toolbar. The toolbar location changes depending on where you're working within the platform, so now it's right where you need it, making it easier for you to edit and style your content throughout Pebble+ and Submission Viewer 2.
We've also changed the look and feel of our toolbar and introduced a better responsive design for smaller screens and devices. If you can't find what you're looking for on the inline editor toolbar, then not to worry. You can access additional functionality by opening the three-dot "Show more items" overflow menu located on the far right.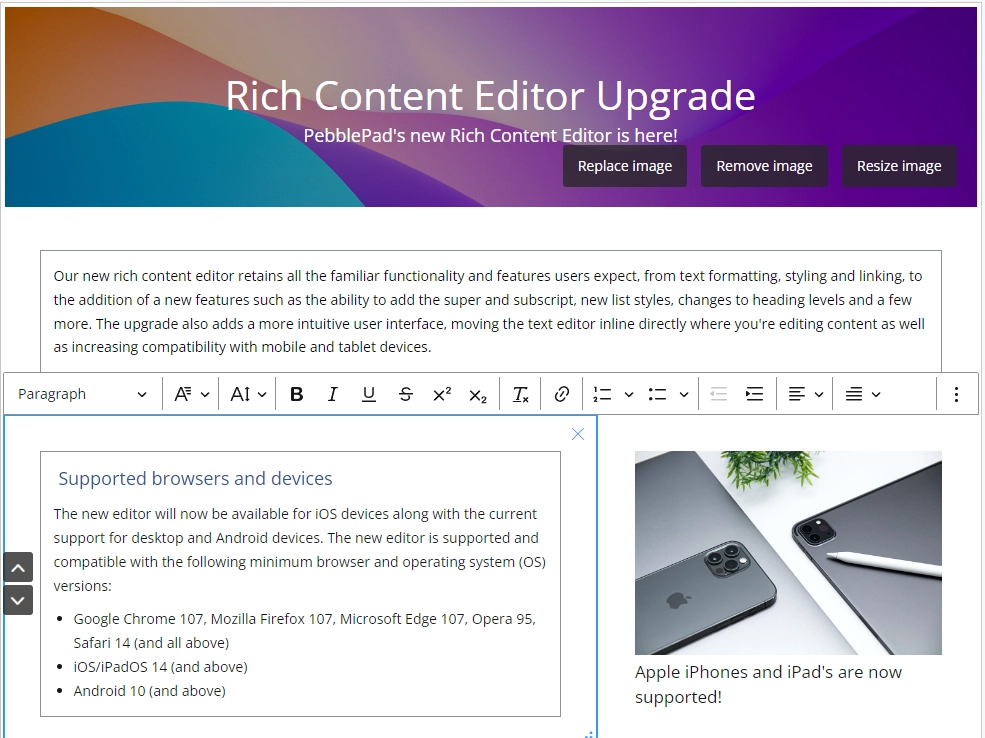 Total control of your content
Are you looking for more and better ways to organise your content? Our new RCE introduces seven new sets of unordered and ordered list styles, giving you better flexibility when laying out and structuring content. You can even customise nested lists to match your preferred style.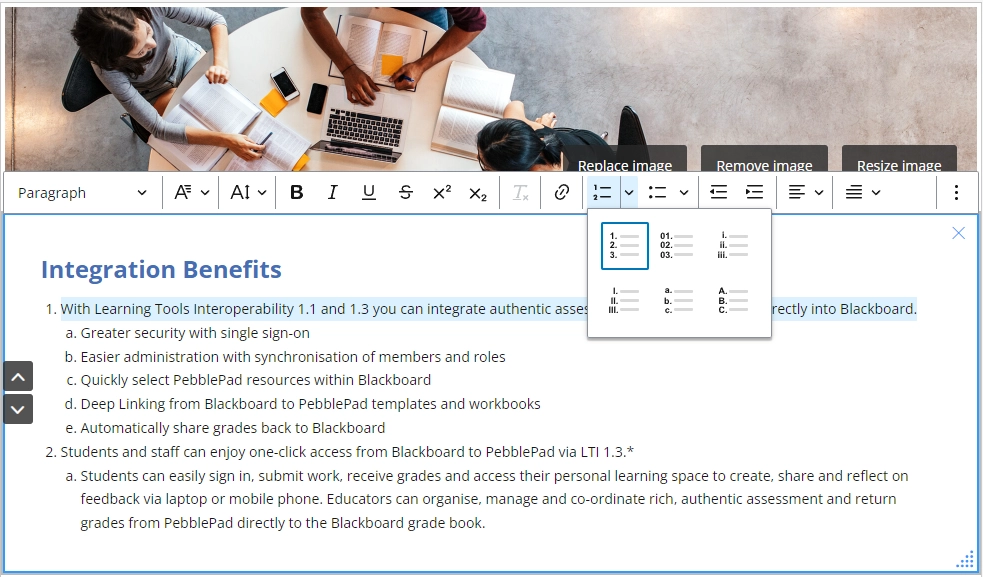 Subscript and superscript features
Does your work include scientific or mathematical formulas? If so, you're in for a treat. We've added sub and superscript features to the new RCE, allowing you to present simple formulae and equations in the correct format.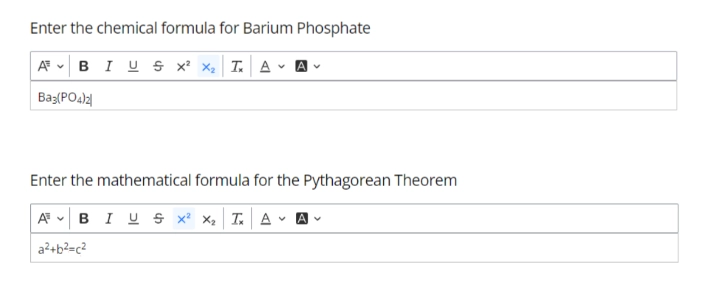 Heading level and accessibility updates
Want to make your content more consistent? We've updated the paragraph and heading drop-down menu to include a more accessible and logically organised heading level hierarchy. This automatically updates based on your Asset/Resource layout, ensuring consistency throughout your content.

We've also improved the RCE's accessibility by adding a help prompt for screen-readers. Users can now use the Alt+F10 (for Windows) or Option+F10 (for Mac) commands to easily access the toolbar, making content creation more inclusive.
Hyperlinking made easier
Adding evidence and linking to resources is now a breeze with the new RCE. Our new updated modal allows you to add, edit and delete both your original link and the link text, making it easier to manage links to evidence and resource materials. You can also find recent assets and resources to attach using our quick search, saving time and energy.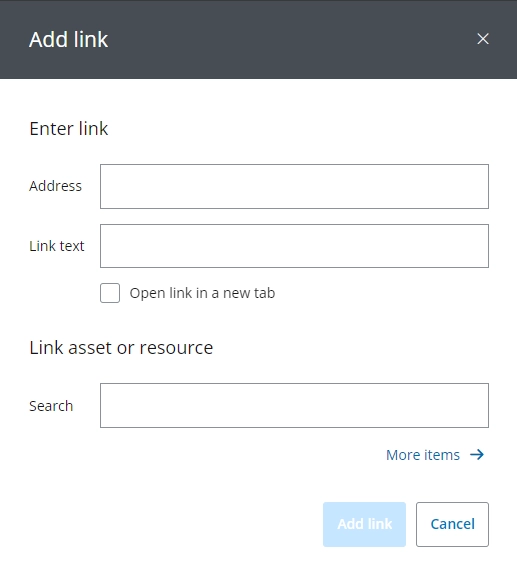 What's next?
We're always looking for ways to improve our platform so keep your eyes peeled for some exciting updates due for release at the end of next month.
For a full list of all the changes made in October (and this year so far), check out our product release notes below.