We're incredibly excited to be welcoming Deakin University into our trailblazing PebblePad community. Located in Victoria, Australia, Deakin is a globally connected university with an international reputation for excellence in digital learning environments and blended learning.  Deakin has chosen to partner with PebblePad in supporting their 60,000 students through every step of the learning journey. In this blog post we take a look at how PebblePad aligns with Deakin's leadership and strategy in digital capability for developing future-ready graduates.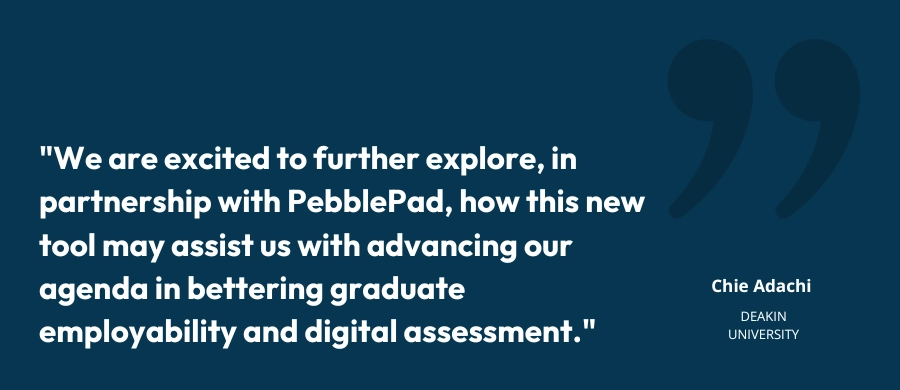 Graduate Employability and Digital Assessment
Associate Professor Chie Adachi, Director, Digital Learning, highlights the benefits of taking an embedded portfolio approach, especially with regards to graduate employability. "Particularly through course-wide design of portfolio work and programmatic assessment, these activities scaffold the process of lifelong learning, while also creating opportunities to deliberately address our Graduate Learning Outcomes, namely, 21st century transferrable skills."  PebblePad will play an integral role in enabling students to record, reflect on and showcase their learning experiences and achievements, whenever and wherever they may occur.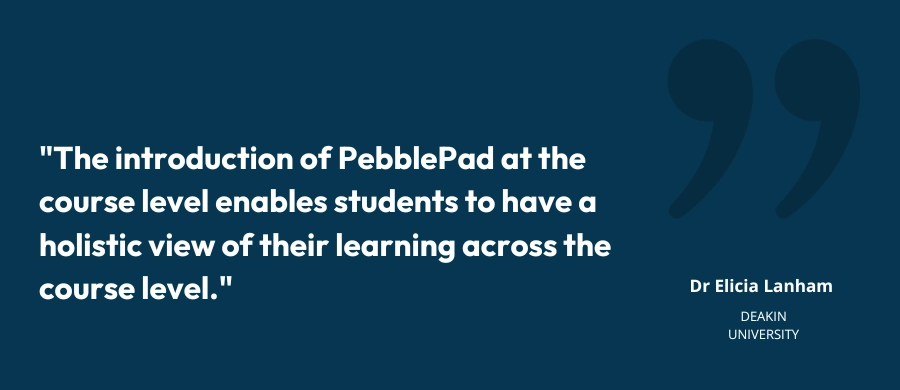 Building Connections, Creating Confidence
Deakin University has long been recognised in the field of eportfolio practice and practitioners understand the impact that can be gained through embedding eportfolio activity throughout a program or course. For Dr Elicia Lanham, the ability for students to be able to see the connections between the units of their course and to see their own skill and personal development is a key rationale for the introduction of PebblePad across a degree.
Another focus for PebblePad use is in supporting students through careful scaffolding of tasks. Dr Jo Elliott identifies PebblePad's versatility in being able to provide highly-structured support for activity early in a course, through to more open-ended tasks that students can take ownership of in terms of building their portfolio and their professional identity.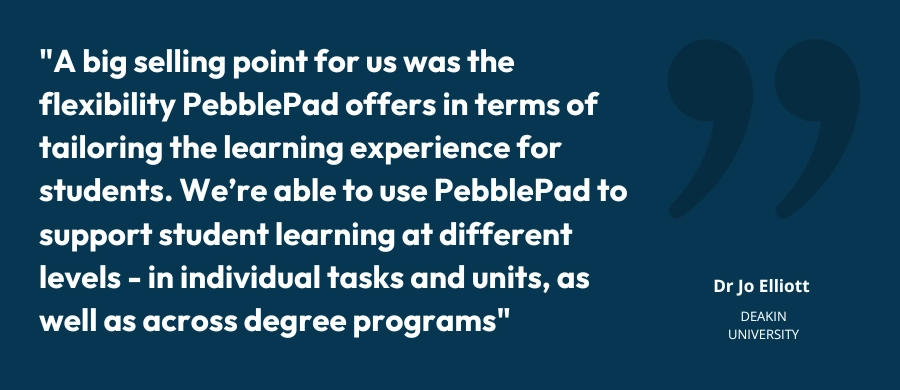 We are absolutely delighted to be working with Deakin and supporting their teaching, learning and assessment ambitions. We look forward to being able to share their examples of practice and stories of learner success, here on the blog.
If you'd like to learn more about the PebblePad Learning Journey Platform and read case studies of how we've supported the learning journeys of hundreds of thousands of students across the globe, download our free publication.